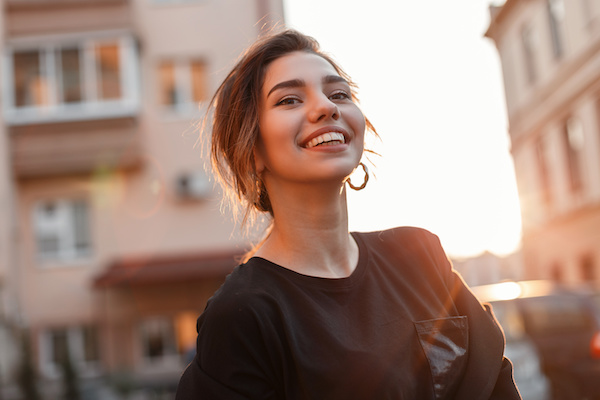 Did you know Americans spend over $20 billion on Valentine's Day annually? Whether you're going all out this year or just doing something simple, you will want to make sure your smile is at its best for any kisses that come your way. Fortunately, it's cheap and easy to take care of your teeth and gums with the following oral health tips! 
#1: Prevent bad breath
There's just about nothing worse than bad breath, especially on a romantic holiday – so steer clear of any foul odor by recommitting to your oral healthcare habits! Brush your teeth with fluoride toothpaste for two minutes, twice a day, and floss between teeth daily to remove any plaque and bacteria buildup that could cause a less-than-pleasant odor.
#2: Don't share a toothbrush
As much as you may love your partner, stick to your boundaries when it comes to your toothbrush. If you do use each other's, you'll end up sharing more than just the brush. The bacteria that causes cavities is transmissible – not to mention bacteria that cause colds, flu, and all the other things you just don't want to share.
#3: Kick the habit
Smoking or using tobacco, including e-cigarettes, is a sure-fire way to disappoint your Valentine. If you are ready to quit or have tried unsuccessfully in the past, turn to your doctor or dentist for support.
#4: Stay hydrated
Drinking the right amount of H2O offers a number of benefits for your health, including for your smile. Being properly hydrated prevents cavities, gum disease, and helps with saliva production, which allows your mouth to wash away bacteria and keep your breath smelling fresh.
#5: Pay a visit to your dentist
Starting the year off with a visit to your dentist for a checkup and cleaning will help to ensure that your smile is more than ready for Valentine's. A professional cleaning will remove anything that could be causing bad breath, and that checkup will help to make sure that you don't have any cavities or gum disease lurking to put a damper on your romantic evening.
There you have it – 5 tips to help you prepare your smile to look and feel its best for Valentine's Day. Now the rest is up to you!
Meet the Practice
At Meadowbrook Dentistry, you can count on a team of experienced dental professionals to provide top-notch general, restorative, and cosmetic dental care for you and those you love year-round. Our dentists and staff go above and beyond to help you enjoy a calm, stress-free experience using the latest technology and approaches. To learn more about how to keep your smile healthy and beautiful for your Valentine, contact the office at (516) 346-5655.