Dental Implants – Plainview, NY
A Modern Solution for Missing Teeth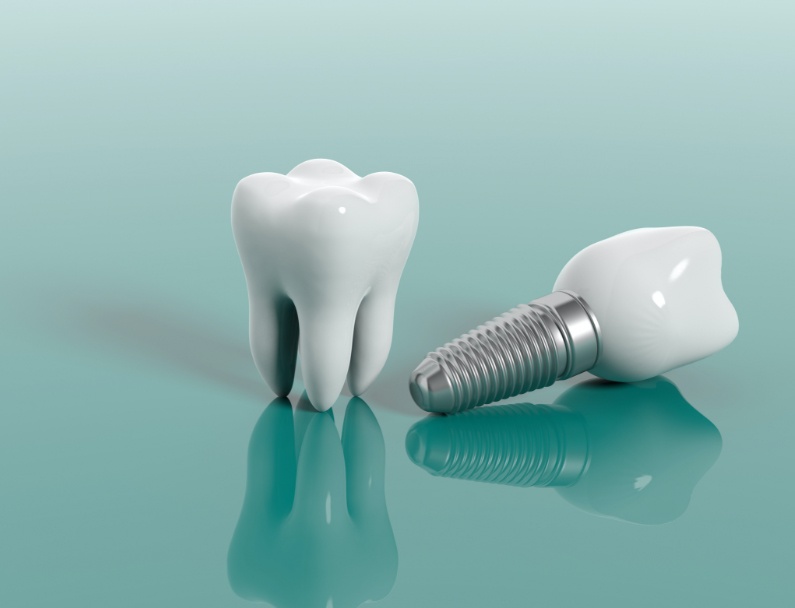 Missing teeth are a burden currently faced by over 100 million Americans, but in Plainview, patients can get the most complete and state-of-the-art replacement solution available today right here at Meadowbrook Dentistry: dental implants. This revolutionary treatment provides the most natural-looking, reliable, and durable results compared to any other treatment, and it's capable of replacing any number of missing teeth for a lifetime. Are you ready to say goodbye to the gaps in your smile? If so, contact us today.
Why Choose Meadowbrook Dentistry for Dental Implants?
Start-to-Finish Procedure Done in House
Leading Long Island Dental Implants Provider
Aesthetic Restorations Combine Function and Beauty
How a Dental Implant Works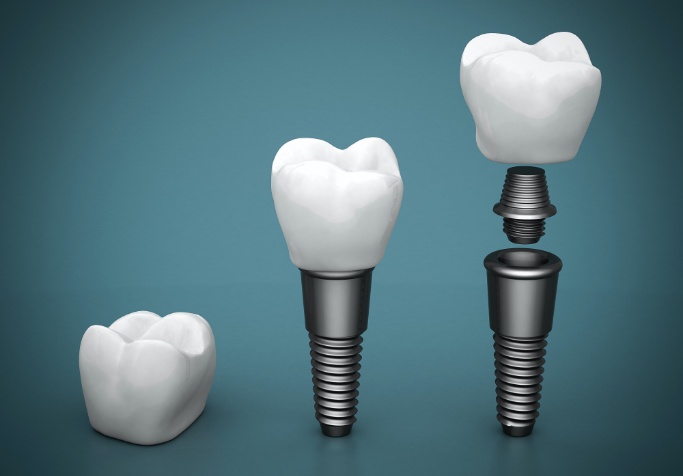 Dental implants are unique because they actually replace the root of a tooth as well as the crown (the portion that shows when you smile). To get dental implants, you'll first need to undergo a minor surgery in which our team will place small titanium posts into your jaw. These will be used to support your replacement teeth as well as prevent your jawbone from atrophying (which is common after tooth loss). After you've been given time to heal, you'll return to our office to get your brand new teeth.
Learn How Dental Implants Work
Benefits of Dental Implants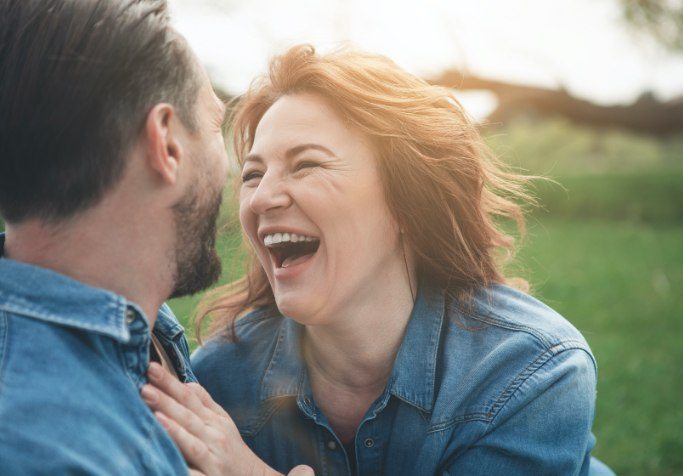 Dental implants are the closest thing to natural teeth, which means you'll gain all the benefits you were used to having prior to your tooth loss. It gives your jaw a stronger biting force, which is one of the first things to diminish after a tooth is lost. It means bone stimulation and better blood flow, which prevents your bone from losing its natural shape and your cheeks from hollowing out. These are both common side effects that neither traditional bridges nor dentures can address.
Furthermore, you're guaranteed to get the longest-lasting and most reliable solution to your tooth loss. Research on dental implant longevity shows that even after a 10-year period, treatment has a success rate as high as 98 percent when properly maintained. Enjoy your juicy steak or crisp apple without worry of your implants shifting or falling out!
Finally, dental implants offer the most aesthetically-pleasing solution for replacing teeth. The crowns are designed to blend in with neighboring teeth (when applicable) and look as natural as possible. This is in large part due to the restorative properties implants offer, as well as the aesthetic quality of the materials used.
Indications for Dental Implants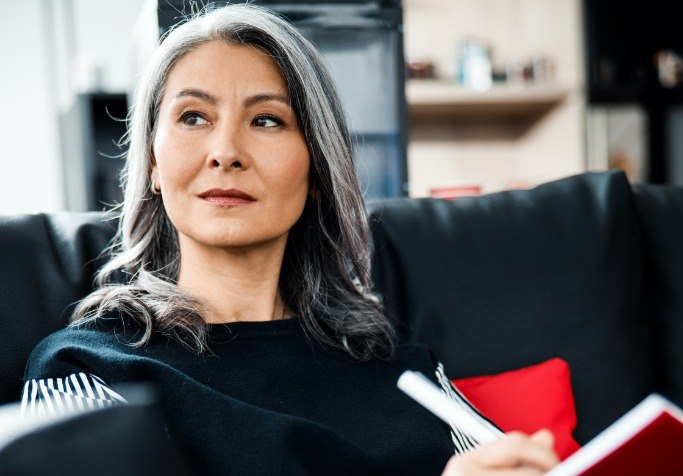 Dental implants are known for being incredibly versatile. Whether you're missing one tooth or an entire arch, we can give you a long-lasting restoration.
Missing Single Tooth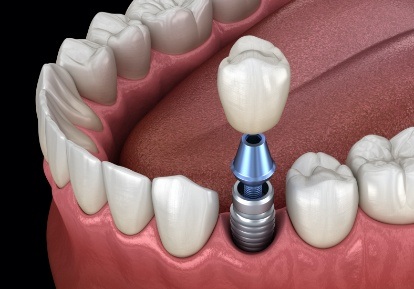 An implant-retained crown can create a tooth that is virtually indistinguishable from the real thing. It consists of three main parts: the implant itself, a custom-made all-porcelain crown, and an abutment. The implant will support the crown, and they'll be connected via the abutment. Because it will share the same structure as your other teeth, it will perfectly blend in with your smile.
Learn More About Single Tooth Implants
Missing Multiple Teeth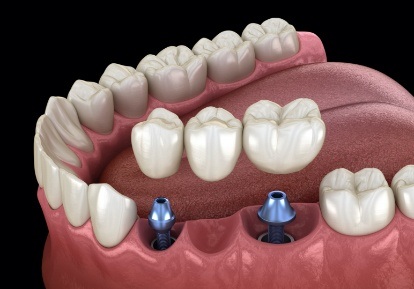 If you're missing multiple teeth, dental implants can be made to hold a dental bridge. To do this, we attach other prosthetic teeth to implant crowns. This can be done to replace three to four consecutive teeth at a time.
Learn More About Implant-Supported Bridge
Missing All Teeth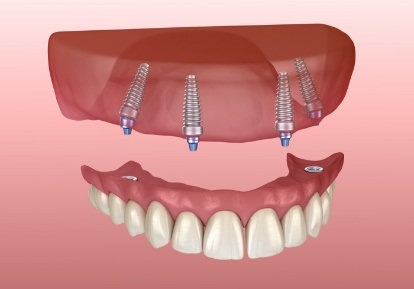 Traditional removable dentures are notorious for not staying in place, particularly those used to restore the bottom teeth. With dental implants, we can finally give you a denture you can trust, whether you are eating, speaking, or simply showing off your smile. Multiple implants will be topped with small connectors that a custom-made denture will simply snap onto.
Additionally, All-On-4 dentures can help you restore your smile in just one appointment! Four strategically placed implants will be positioned within the jaw, and these will be attached to a strong and secure implant-retained denture. Afterward, we'll work with you to create a more customized denture that perfectly suits your mouth and facial features to maximize comfort and aesthetics.
Learn More About Implant-Retained Dentures
Understanding the Cost of Dental Implants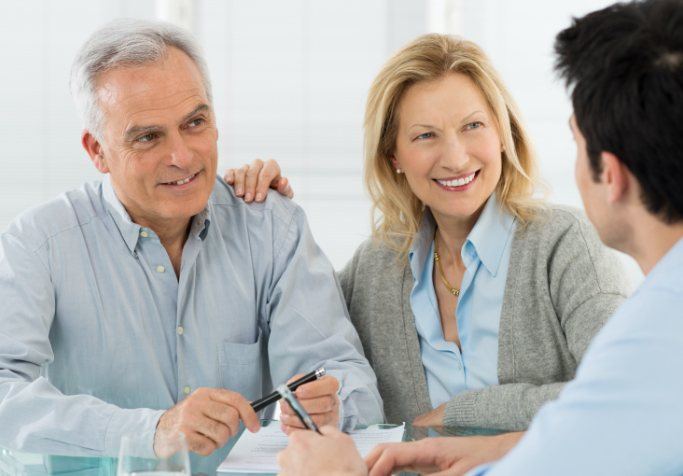 When pursuing traditional implants, it's important to note that your treatment cost may vary widely from everyone else. That's because the cost of treatment will vary largely depending on your unique needs. For example, those in need of several implants to hold a denture will see a higher cost compared to someone replacing a single tooth with an implant-retained crown.
Dental implants should be considered a long-term investment, especially because they are more cost-effective than replacing a dental bridge every 10 years or a denture every 7 to 14 years.
Learn More About Dental Implant Costs
Mini Dental Implants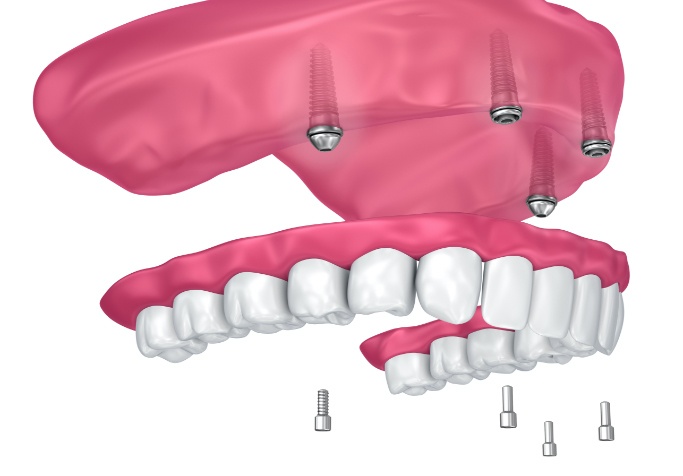 In order to get dental implants, a patient needs to have an adequate amount of healthy jawbone in order to support the prosthetic roots. If a patient's jaw is too thin or brittle to support traditional implants, we can still offer a reliable solution using mini dental implants. The posts are smaller and shorter than traditional implants, but they can still be used to support a denture that has a much better hold than a regular one. As a bonus, they can usually be placed and restored faster than traditional implants because of their size, too.
Advanced Dental Implant Procedures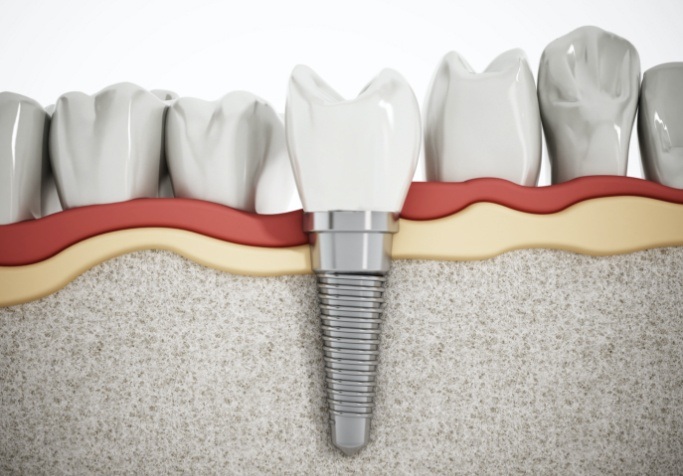 If it's been a while since you've lost your teeth, you may be worried that your jawbone has degenerated too much for a successful implant surgery. However, dental implants may still be an option once you've received a bone graft. By taking bone tissue from another part of your body, we can encourage the jaw to repair itself, creating a solid foundation for implants. Other advanced procedures may be necessary as well depending on the situation.