Veneers – Plainview, NY
Transform Every Aspect of Your Smile Fast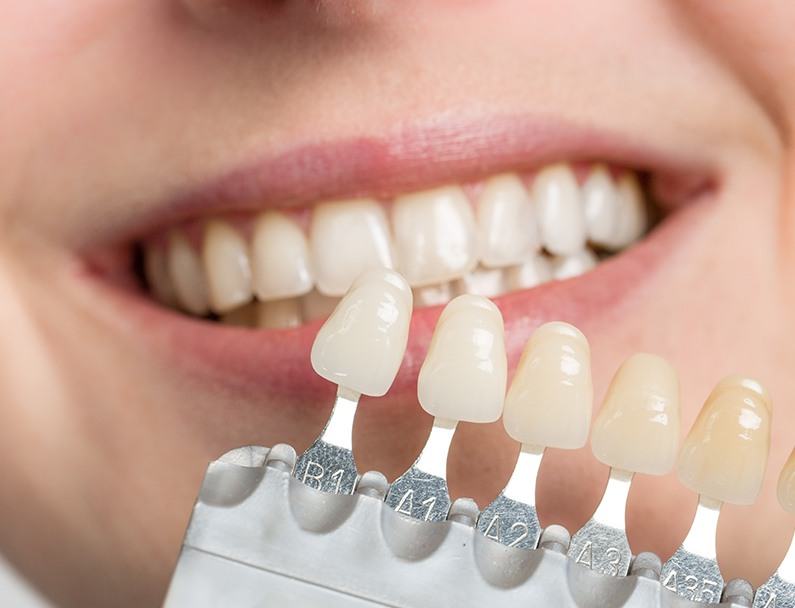 Are you unhappy with the appearance of your imperfect front teeth? The "social six" are what we call the ones that show when you laugh, speak, and smile -- and if these teeth are chipped, stained, or otherwise flawed, it can leave you wanting to hide your beautiful grin. Fortunately, porcelain veneers can come to the rescue for teeth in the smile zone! Keep reading to learn more about how your cosmetic dentist in Plainview can enhance your grin with this fabulous treatment.
Why Choose Meadowbrook Dentistry for Veneers?
Made Using High-Quality, Tooth-Colored Materials
Care from an Accredited Team of Experts
Experienced Dentists That Listen to Your Needs
What Are Porcelain Veneers?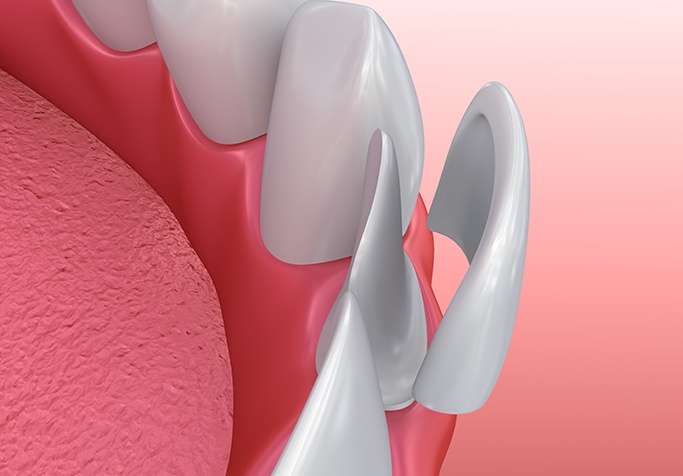 Porcelain veneers are thin coverings that can mask the appearance of just about any cosmetic imperfection that may affect your front teeth. These restorations are customized to match the size, shape, and shade that will suit your unique smile and facial features the best.
To place veneers, we must first remove a small sliver of enamel from the surface of each of the targeted teeth. Impressions are taken and the veneers are created according to the specifics of your treatment plan. Once they are ready for placement, the surface of each prepared tooth is roughened up and a special bonding agent is used to ensure a secure attachment between the veneer and tooth enamel. This process is completed over the course of two visits to our office and can last for up to 20 years with proper care and maintenance.
Cosmetic Benefits of Veneers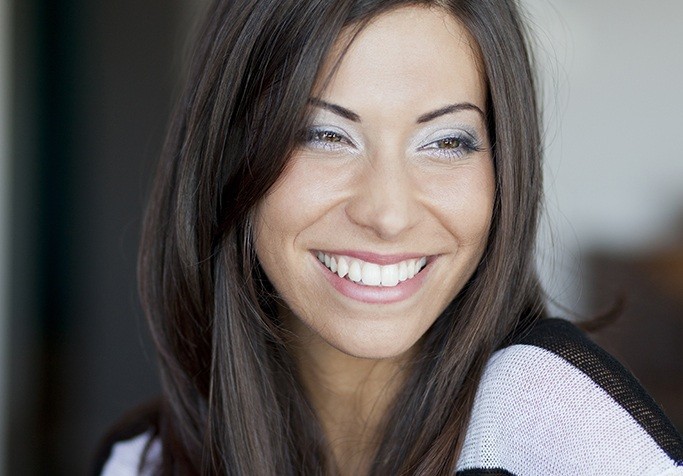 There are a number of advantages to choosing porcelain veneers. Some of the most considerable benefits of this treatment include:
All the benefits of smile confidence, including increased self-esteem, more frequent smiling, etc.
Veneers can fix multiple imperfections in a single treatment
Dental veneers are minimally-invasive
Porcelain is highly customizable to ensure that it matches your unique facial features
Dental veneers are highly stain-resistant -- much more so than your natural tooth enamel
When they are used to cover up slight gaps or minor crowding, dental veneers can have an instant orthodontic effect
Are Veneers Right for You?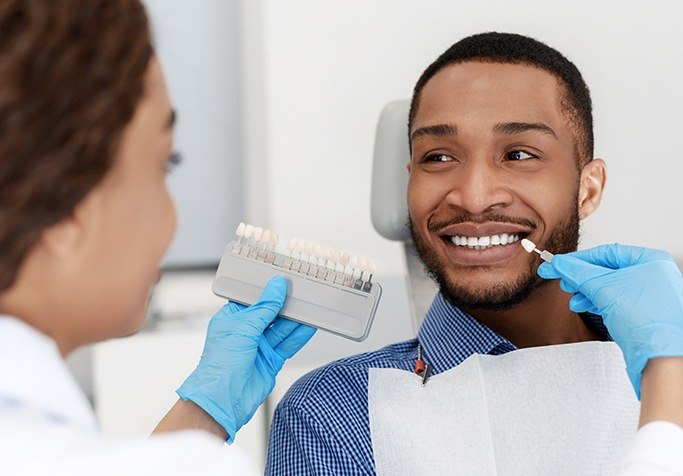 Most people with healthy but imperfect front teeth can indeed benefit from porcelain veneers. Patients who have problems with the structure of the tooth in addition to its appearance may be better suited for a dental crown or other restoration.
To find out for sure if this treatment is right for you, you will need to schedule an initial cosmetic consultation with our office. If this is a good option for improving the appearance of your teeth, we will look forward to getting started right away.
Understanding the Cost of Veneers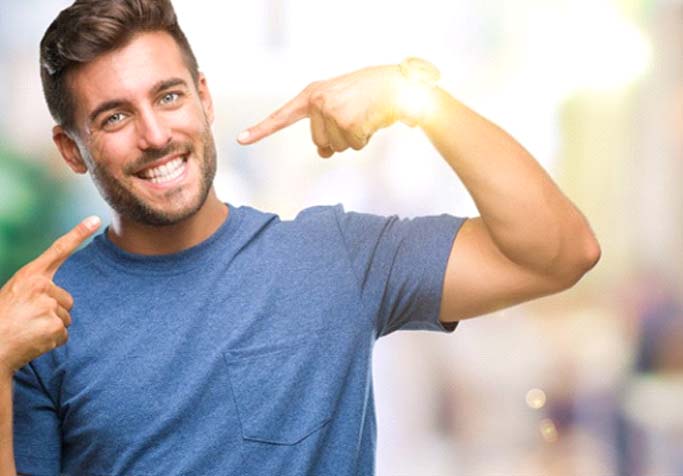 If you're looking to transform every aspect of your smile fast, very few cosmetic dental treatments are as effective as veneers. This versatile solution produces quick, dramatic, and long-lasting results that make your smile look like it was never even flawed to begin with. Although the cost of veneers in Plainview tends to be higher than other options, you typically get what you pay for when it comes to dental care. Read on to learn some helpful information about how much veneers cost.
Veneers vs. Other Cosmetic Dentistry Treatments: Comparing the Costs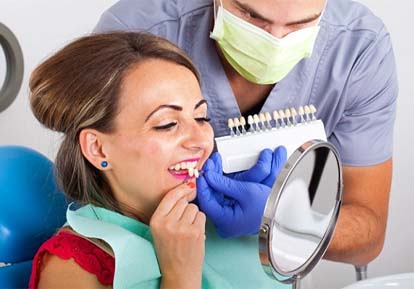 With all of the cosmetic dentistry services we offer here at Meadowbrook Dentistry, it can be hard to choose the right one for your unique smile. Each of these services can accomplish different things in terms of how you want your teeth to look. Naturally, they also come at varying price points. Here's how the cost of veneers compares to other common cosmetic dentistry treatments:
Invisalign – Clear aligners like Invisalign straighten your teeth while barely being noticeable. However, the process can take a year or longer, and the treatment can cost several thousands of dollars. Not to mention, Invisalign can only change the positions of your teeth, not their color, shape, or size.
Teeth whitening – Whether you choose in-office or take-home teeth whitening, you'll have a dazzlingly bright smile in no time at all. While teeth whitening is a relatively low-cost option, its results rarely last more than a year or two. It's also like Invisalign in that it can only improve one aspect of your teeth: in this case, their color.
Direct bonding – Bonding is affordable for most patients, and it can fix a variety of imperfections (chips, cracks, gaps, stains, etc.) in a single appointment. However, the procedure will need to be redone every few years to maintain your results.
Veneers – Even though veneers are far from the cheapest cosmetic service, they're the most comprehensive way to completely transform your smile. They can correct multiple aesthetic issues at the same time with a treatment that only takes two visits, and the results can easily last for 10-15 years or longer.
How to Make Veneers Affordable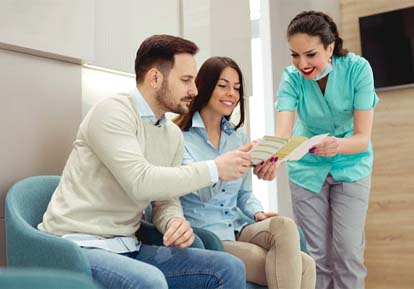 Usually, dental insurance does not cover veneers since they fall under the category of "elective procedures." However, that doesn't necessarily mean that veneers are out of reach for you. At Meadowbrook Dentistry, we partner with CareCredit, a third-party financing company that has helped millions of Americans fit their dental and medical costs into their budget. CareCredit offers countless payment plans to choose from, so there's sure to be one that suits your budget. Better yet, these plans often come with little to no interest attached!
Porcelain Veneers FAQs
As one of the most versatile cosmetic dentistry treatments, veneers in Plainview are a great way to "kill two birds with one stone" when it comes to improving your smile. Because they act as tiny "masks" for your teeth, they can correct virtually all aesthetic flaws in that tooth at once. As veneers have become more popular recently, more misinformation has spread around the Internet regarding this treatment. To help you learn as much as possible about veneers and how they can help you, we've answered a few frequently asked questions about veneers below.
What's the Difference Between a Veneer and a Dental Crown?
Both veneers and dental crowns are types of restorations that are meant to conceal a part of the tooth. A crown, which is a tooth-shaped "cap," fits over the entire portion of the tooth that is visible above the gums. Veneers, by contrast, only cover up the front-facing surface of a tooth. Since less enamel must be removed to make room for a veneer when compared to a crown, veneers are considered a more conservative treatment.
Are Veneers Permanent?
In order for the veneer to lay flush against your tooth, we'll have to shave off a thin sliver of enamel. Because tooth enamel is an inorganic material, it does not grow back once it has been lost. For this reason, we won't be able to remove your veneer in the future without immediately placing another one. Doing so would leave your tooth more vulnerable to sensitivity and cavities.
While the veneers themselves are not permanent, they can last up to two full decades, provided you take proper care of them.
How Do I Make My Veneers Last?
The good news is that maintaining your veneers is not very different from caring for your natural teeth. Twice a day, brush your teeth with a fluoridated toothpaste for two minutes at a time. Floss and rinse with an antibiotic mouthwash at least once daily. If you grind your teeth or play sports, wear a nightguard or mouthguard respectively to protect your veneers and underlying teeth from damage. Lastly, avoid using your teeth as tools or chewing on extremely hard objects such as ice, peppermints, nuts, popcorn kernels, pens, etc.
Will People Be Able to Tell I Have Veneers?
Not at all! Each veneer is designed to look as natural as possible. When creating your veneers, your cosmetic dentist in Plainview will take every aspect of your appearance into account, including your face shape, skin tone, and surrounding teeth. Because of this, as well as dental porcelain's remarkable ability to mimic natural tooth enamel, no one outside of our dental team should be able to tell that you have veneers!
What Happens to the Teeth Under Veneers?
At your first appointment, we'll prepare your teeth by removing a thin layer of enamel to ensure the veneers fit properly. A powerful, safe, and effective bonding material is used to attach the restoration to your prepared teeth. Since the altered enamel is permanently covered by the veneer, the procedure does not increase your risk of cavities. However, you'll still need to protect your new and improved smile by brushing twice a day, flossing daily, limiting your sugar intake, and visiting your dentist regularly.
Is There Anything I Can't Eat with Veneers?
You'll receive temporary veneers to protect your teeth while you wait for your permanent restorations to be made. During that time, you'll need to avoid eating hard foods (i.e., raw fruits and veggies, ice, hard candy), sticky foods (i.e., gum, caramel, toffee), and dark-colored foods and drinks (i.e., coffee, soda, red wine). Although you can enjoy almost any food once your permanent veneers are in place, you should continue to exercise caution to keep your new grin in its very best shape. Make sure you drink alcohol sparingly as it can weaken the bonding material holding your veneers in place.
Will I Still Be Able to Drink Coffee with Veneers?
It's worth noting that veneers are typically made of porcelain, which is a stain-resistant material. Highly pigmented food and drinks have more difficulty penetrating beneath the surface because the material is nonporous, unlike natural enamel. For that reason, you can drink coffee without worrying much about it staining your restorations. Of course, excessive consumption of coffee can still have a negative impact on your appearance. If you want your veneers to stay bright for as long as possible, you should only consume dark-colored beverages in moderation.
Do Veneers Give You a Lisp?
When you first get your veneers in Plainview, you may have difficulty pronouncing certain words or making specific sounds. That happens because the tongue is not used to accounting for the presence of the restorations when you talk. Even though it's only a slight difference in thickness, it still affects the way the tongue moves. Luckily, any lisp you develop is temporary and should go away as soon as you get used to your veneers. You can speed up the adjustment process by repeating difficult-to-pronounce words, having more conversations with loved ones, and reading aloud. In some cases, asking your dentist to reduce the thickness of the restorations in certain areas can make the lisp go away.
Let's Get Started on Your Smile
Our goal is to help our patients enjoy a healthy, beautiful smile -- and for many people, the latter is achievable with porcelain veneers in Plainview! If you are interested in learning more about this specific treatment or what is possible with cosmetic dentistry in general, you are invited to request an appointment today.