Invisalign – Plainview, NY
The Best Choice to Straight Teeth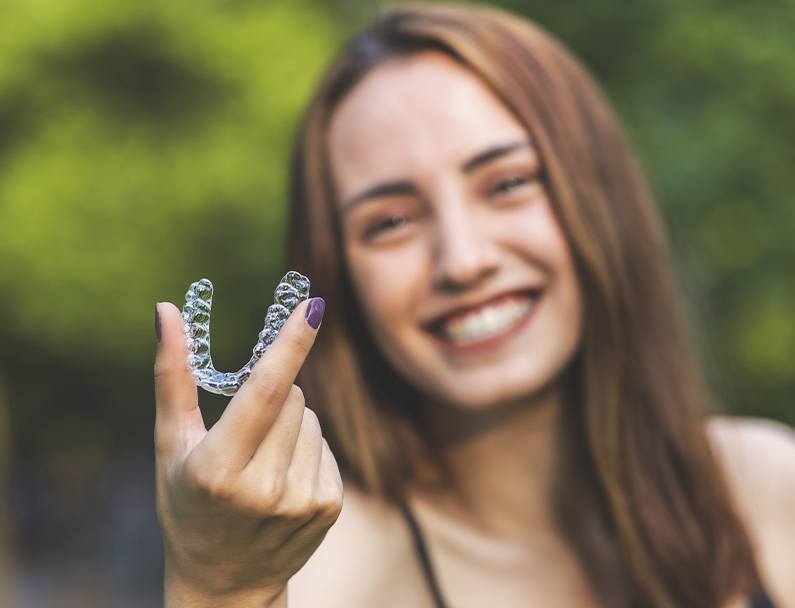 In years past, straightening your teeth meant having to endure metal brackets and wires for two years or even longer. Well, that's not the case nowadays. At Meadowbrook Dentistry, we offer a better way to get the smile you've always wanted — Invisalign. This system uses clear plastic aligners to gradually guide your teeth into the desired position while maintaining your appearance and confidence during the treatment, making it the perfect straightening solution for both teens and adults. Contact us to schedule a consultation today!
Why Choose Meadowbrook Dentistry for Invisalign?
Digital Impression Scanner In-House
Care from an Accredited Team of Experts
Kind and Caring Dentists That Listen to Your Needs
How Invisalign Works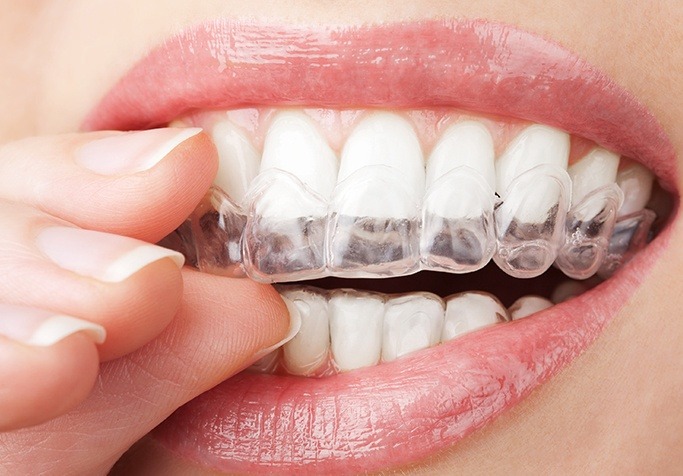 Once you and one of our experienced cosmetic dentists have determined that Invisalign is the right option, we will take impressions of your mouth and use that information to create a personalized treatment plan just for you. The impressions are sent to a lab where your clear Invisalign aligners are created. Once the aligners arrive, you will begin wearing them for 20 to 22 hours every day, taking them out only for eating and cleaning. After about two weeks, you will receive and start wearing the next set of trays, bringing you one step closer to the final results.
Every couple of months, you will come into our Plainview office so that we can check on your progress and make any necessary changes to your treatment plan. After 12 to 18 months, you can have a perfectly straight, healthy smile that you'll be proud to show off.
Indications for Invisalign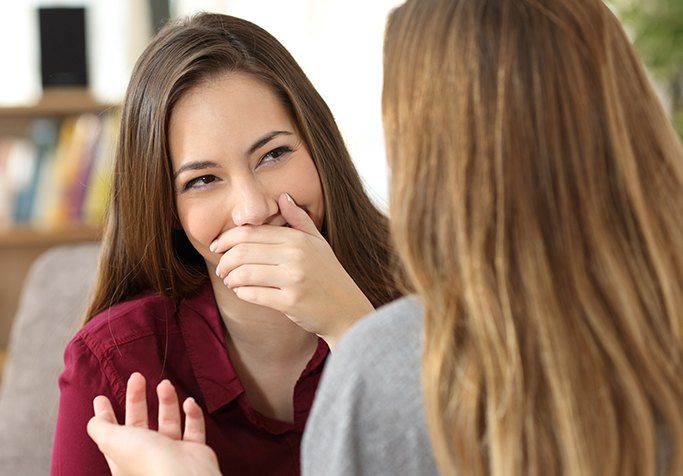 There are many different kinds of orthodontic issues, and luckily Invisalign can be used for many of the most common ones. Here are a few reasons why you might get Invisalign:
Crowded Teeth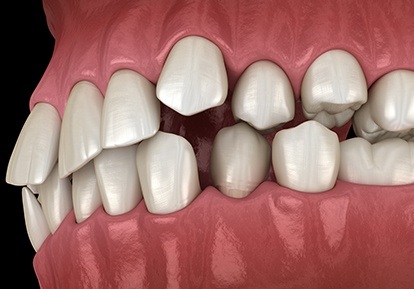 Invisalign can straighten teeth that are crowded together and don't line up properly. This makes them easier to clean so that you can avoid tooth decay and gum disease more easily.
Spaces Between Teeth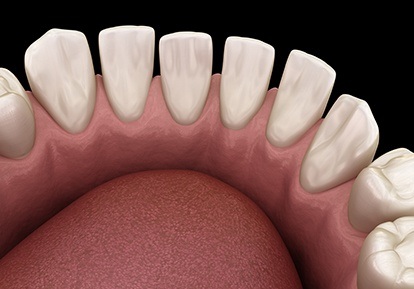 Gaps can be unsightly and embarrassing, and they also create a space where food particles can get trapped and cause constant bad breath; Invisalign closes the space and solves both problems.
Learn About Spaces Between Teeth
Bite Alignment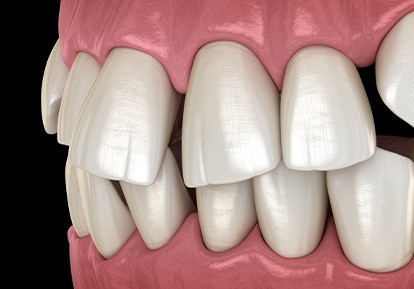 Whether it's an overbite, a crossbite or an underbite, it can be adjusted with Invisalign. Correcting bite alignment isn't just about your appearance; a bad bite can put too much pressure on your jaw joints, which leads to clenching and grinding that can wear down your teeth.
Benefits of Invisalign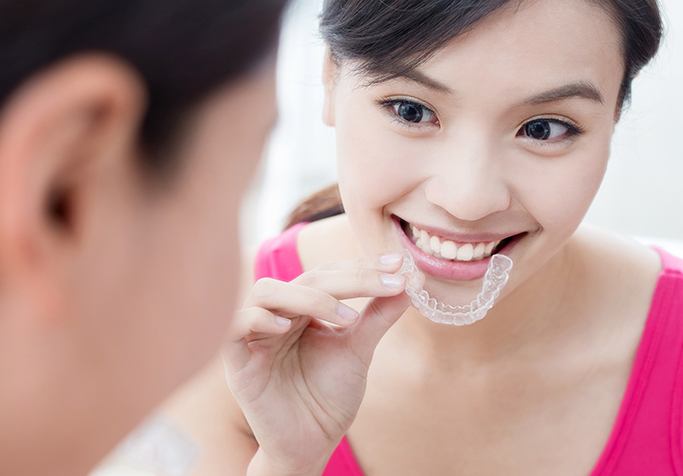 In addition to not having the unsightly brackets and wires of traditional braces, Invisalign has many advantages, including the following:
The clear aligners are barely noticeable when worn.
Invisalign can improve your oral health. Straight teeth are easier to keep clean, and a clean mouth is a healthy mouth.
You can see results fast. Traditional braces can take between 24 and 36 months to complete treatment. Most patients achieve the final results by 12 to 18 months with Invisalign.
You have no diet restrictions. Because the clear trays are removeable, you can keep enjoying your favorite foods with Invisalign.
The alignment trays are easy to maintain. Simply use your toothbrush and toothpaste to gently scrub them clean every night and rinse them off. That's it!
Understanding the Cost of Invisalign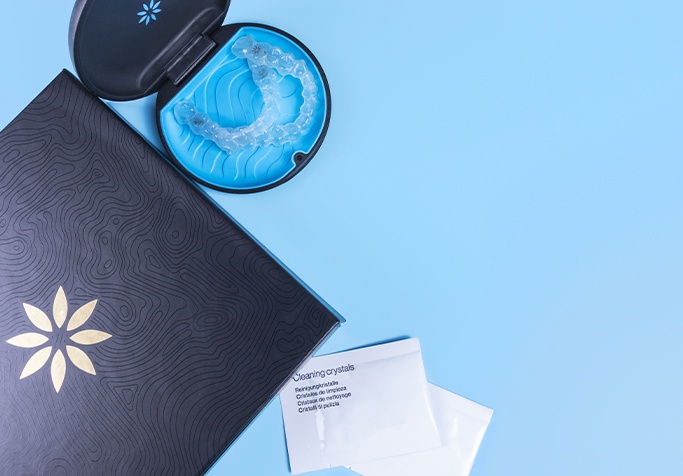 The ultimate cost of your Invisalign treatment will depend on the number of aligners you need and the amount of time they need to be worn. These factors are affected by the severity of your case, your ability to comply with our team's instructions, and your age. You can get a more detailed estimate at your initial consultation! In the meantime, keep reading to learn more about the cost of Invisalign in Plainview.
Factors that Affect the Cost of Invisalign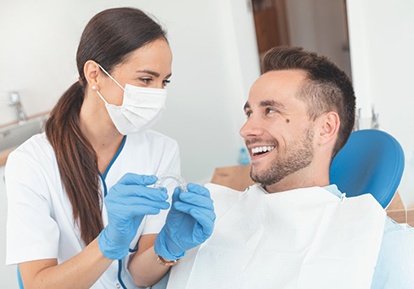 When you visit us for an Invisalign consultation, we'll evaluate your case to create a personalized estimate of how much you can expect to pay for your treatment. This estimate will be based on factors like:
Your oral health: If you need to have oral health issues like cavities or gum disease treated before beginning Invisalign, the cost of these procedures will naturally add to the overall cost of your Invisalign treatment.
Your age: Invisalign is an excellent choice for teens, adults, and older adults alike! However, it will typically be easier, and therefore less expensive, to straighten a teenager's smile since their jaws and teeth are not fully developed and set in place.
The severity of your case: As you may suspect, the more severe the misalignment of your teeth or bite is, the higher the cost of your treatment will be.
Your personal dedication to your treatment plan will also play a role in the cost of your Invisalign treatment. It's essential that you wear your aligners frequently enough in order to keep your treatment on track. If you don't, it may cost you more time and money.
Invisalign VS Smile Direct Club™: Which Costs More?
Have you heard of Smile Direct Club™? This company is one of many that offer mail-in aligners, boasting all the results of an Invisalign treatment without the need to set foot in a dentist's office. While this may sound temptingly convenient at first, you should know that professional organizations like the American Association of Orthodontists have filed numerous official complaints against Smile Direct Club™. They site the countless Smile Direct Club™ cases where patients have ended up with far worse orthodontic problems than when they started, causing them unnecessary harm and expense. When you invest in a professional Invisalign treatment, you can rest easy knowing your smile is being cared for by an experienced professional who will be with you every step of the way.
Does Dental Insurance Cover Invisalign?
Dental insurance coverage for Invisalign in Plainview varies greatly. Not all companies or policies cover orthodontic treatment, and even among those that do, clear aligner treatments like Invisalign are not always covered. Our knowledgeable front desk team will be happy to look into the details of your plan to make sure your benefits are being maximized.
Options for Making Invisalign Affordable
Don't have dental insurance? Does your policy not offer coverage for Invisalign? Not to worry! We offer other ways to help make your treatment affordable, including:
Flexible Financing: We've partnered with CareCredit and Proceed Finance to offer flexible financing options. These third-party companies offer a variety of low- to no-interest payment plans, allowing qualifying patients to break up the cost of their Invisalign treatment into smaller chunks that fit into their monthly budget.
Our In-House Savings Plan: We are proud to offer our very own in-house savings plan, where you can enjoy many of the same benefits that traditional dental insurance offers without any of the hassles. You'll receive 20% off basic services as well as 20% off major services like Invisalign!
Invisalign Frequently Asked Questions
With all of its obvious benefits, it's hard to find a reason not to get Invisalign to correct your misaligned teeth. Still, before you seek treatment, you undoubtedly have some questions. Fortunately, we've gathered some of the Invisalign queries we get asked the most often and answered them for your convenience.
Will Invisalign Treatment Hurt?
Some patients experience some initial discomfort every few weeks when they first move onto a new set of aligners. This is completely normal, and also completely temporary. Remember that, thanks to our digital impression technology, your aligners are designed to fit you perfectly. It may just take some time for your mouth to get used to the new appliance in it. If your aligners ever cause you outright pain, be sure to contact us right away so we can solve your problem.
Am I the Wrong Age for Invisalign?
The good news is that there is no upper age limit for Invisalign treatment. Your teeth become more firmly rooted in your jaw as you age, so your treatment time might take a little longer, but it's definitely still possible. However, Invisalign is not recommended for children and younger teenagers, as their mouths are still developing. Older teens and adults, on the other hand, can easily get their teeth straightened with Invisalign.
I Have Crowns. Can I Still Get Invisalign?
Crowns, which are tooth-shaped caps that fit over a tooth to protect or restore it, are usually not affected by Invisalign treatment. Because Invisalign moves a tiny portion of the mouth individually, it's normally perfectly fine if you have crowns. However, the only way to know for sure is to come in and see us for an Invisalign consultation.
I Have Bridgework. Can I Still Get Invisalign?
Dental bridges firmly link two or more teeth together, so they are significantly resistant to tooth movement. Again, Invisalign is designed to shift a small section of your smile at a time, so it may not be compatible with bridgework. Schedule a consultation with us to explore your options.
Since Having My Braces Removed, My Teeth Have Shifted. Can Invisalign Correct This?
Yes! Invisalign can definitely be used to shift teeth that have undergone treatment from traditional braces back into their properly aligned position. In fact, a high volume of our Invisalign patients had braces in their youth, but had their teeth shift back, a phenomenon known as relapse. In most cases, Invisalign can get you your straight smile back.