Dentures – Plainview, NY
Restore Your Smile and Biting Power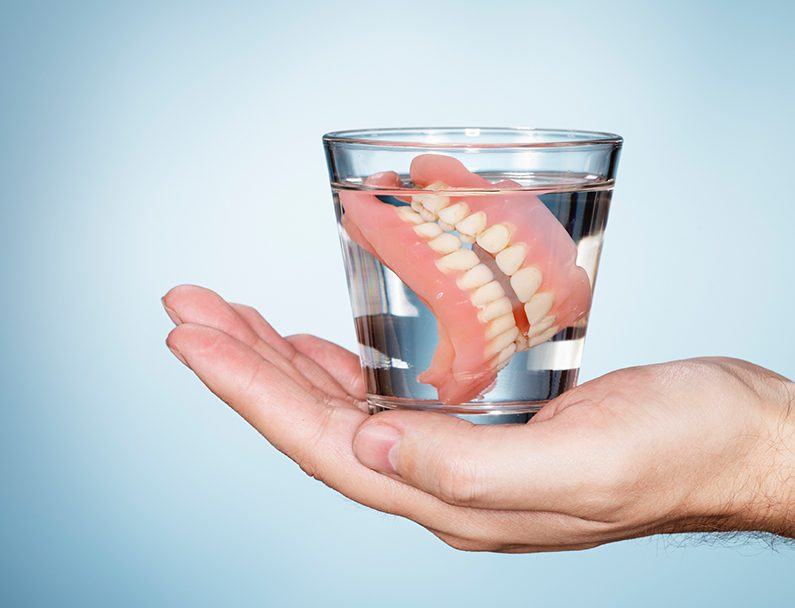 Are you missing most or all of your teeth? Do you find yourself wishing you could enjoy your favorite foods again? Do you avoid saying certain words because you know they will give you difficulty? Sounds like it's time to try dentures in Plainview. These prosthetic teeth allow us to easily restore your smile and biting power back to their former glory. Contact us today to schedule a consultation to learn whether full, partial, or implant dentures are right for you.
Why Choose Meadowbrook Dentistry for Dentures?
Capable of Being Paired with Dental Implants
Designed Using Advanced Dental Technology
Created with Natural-Looking Materials
Who is a Good Candidate for Dentures?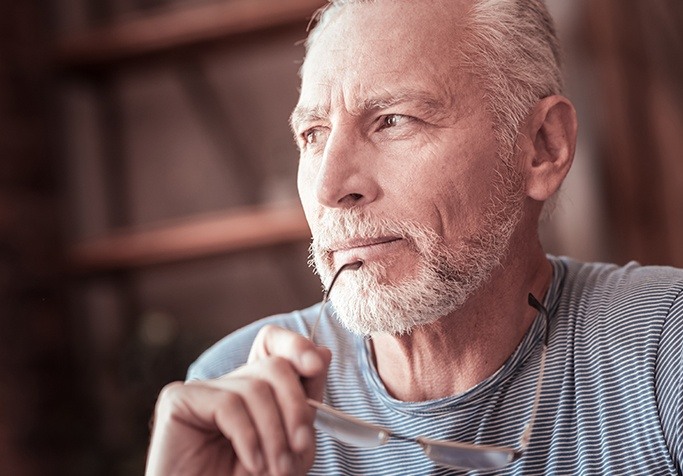 If you're missing all of your teeth on one or both arches, you would be an excellent choice for a full denture. Whether your teeth were lost due to malnutrition, periodontal disease, or some other unfortunate circumstance, full dentures are here to help restore your smile to what it used to be.
On the other hand, if you're only missing most or a few of your teeth, you would be a good candidate for partial dentures in Plainview. They can help give you the appearance and function of a full smile. However, if you're only missing one or a couple of teeth, your dentist in Plainview may want you to consider another option, such as a bridge or a dental implant instead.
What Are the Different Types of Dentures?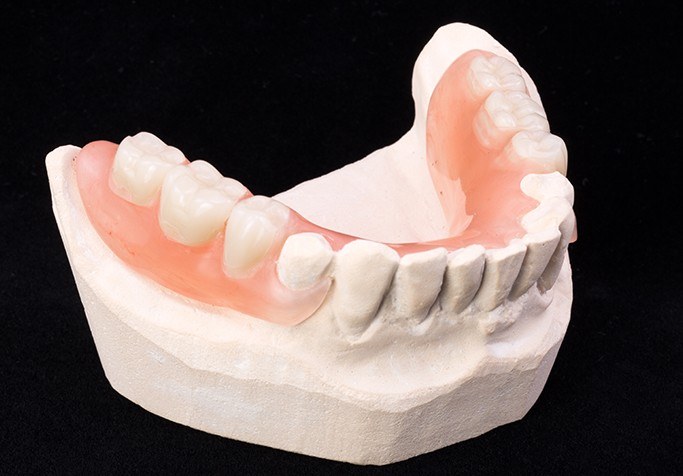 Tooth loss comes in various forms with patients missing one tooth or an entire arch. Fortunately, there are multiple options that will help you achieve the complete, functional, and beautiful smile you deserve.
Partial Dentures
Partial dentures are best for those who are only missing a few teeth in a row. These artificial teeth are created using an acrylic, gum-colored base and are connected by a metal framework that snakes behind your remaining natural teeth to hold them in place. Usually, partial dentures are completely removable and can look and feel much more natural than a dental bridge.
Full Dentures
When you think of the word "dentures," you probably think of full dentures. These are an entire set of prosthetic teeth attached to an acrylic base that matches the color of gum tissue. Once inserted into your mouth, they are held in place by denture adhesive and/or your natural suction to give you back your smile and biting power.
Implant Dentures
For a more permanent and stable prosthetic, implant dentures are an ideal solution. Held into place by the jawbone, they are surgically implanted and offer full functionality when eating and speaking. They also deliver continuous stimulation to the bone, reducing the risk of possible facial collapse. Implant dentures are also designed to last 30 years or even a lifetime with proper maintenance.
Benefits of Dentures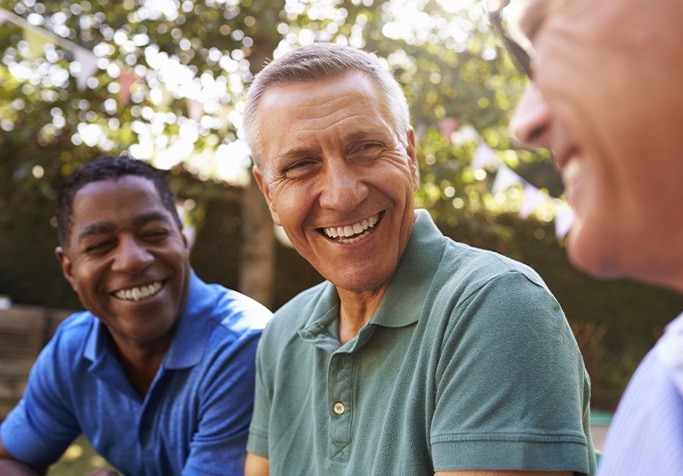 If you've lost most or all of your teeth, you may be suffering from a drop in self-confidence. After all, your smile makes a big difference in how people see you. With dentures, you can expect to:
Enjoy your favorite foods once again since missing teeth can make eating crunchy or chewy foods difficult or downright impossible.
Avoid whistling or lisping due to any gaps in your smile.
Appear confident and photogenic once more, allowing you to live your life to the fullest.
Understanding the Cost of Dentures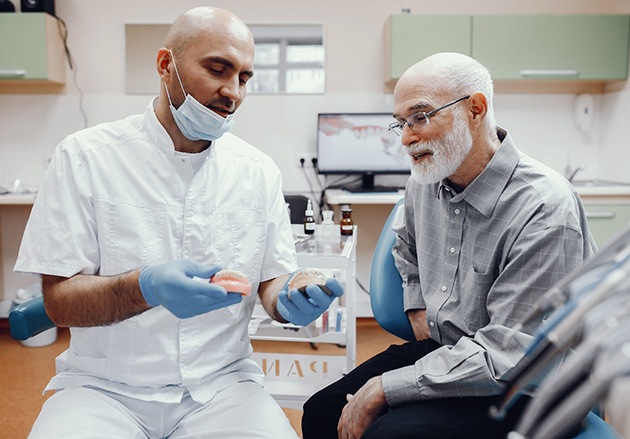 Because every person is unique, the cost of dentures in Plainview can vary greatly from patient to patient. The best way to learn the price of replacement teeth is to schedule a consultation with one of our expert dentists. They will carefully examine your mouth and any remaining teeth and discuss the factors that will influence the cost of your dentures. To get an idea of some of these factors before your initial visit, keep reading below.
Factors That Affect the Cost of Dentures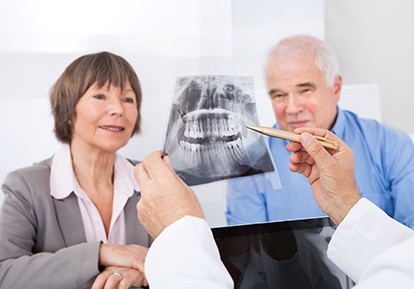 There are three major factors that influence the cost of dentures:
Preparation: Remaining teeth may need to be extracted before getting dentures.
Base Material: The type of acrylic used for the base, which is dyed to match the color of gum tissue.
Teeth Material: The replacement teeth, usually made from acrylic or porcelain, should be lifelike and sturdy.
Are Implant Dentures More Expensive?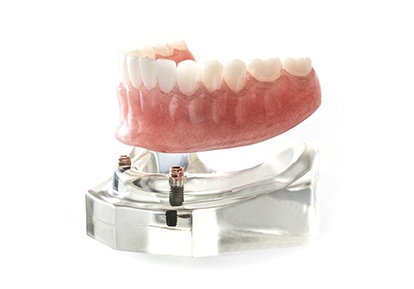 Yes. In general, implant dentures are more expensive than traditional dentures – but for good reason. Implant dentures offers a range of benefits that traditional replacement teeth just cannot match. Because dental implants fuse directly with the jawbone, implant dentures have greater stability and a more natural appearance than traditional dentures. Implant dentures restore nearly full chewing power and never slip or shift, which means you can enjoy all your favorite foods. Finally, implant dentures often make more financial sense in the long run thanks to their long-lasting nature. While traditional dentures typically must be replaced every 5 to 7 years, implant dentures can last for decades with proper care.
Does Dental Insurance Cover Dentures?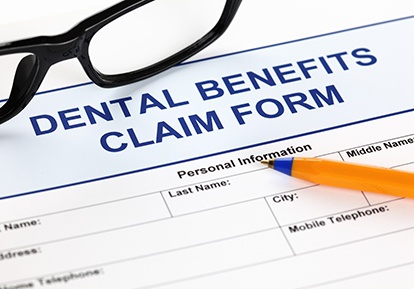 You can likely count on your dental insurance to cover around 50% of the cost of dentures. However, every insurance plan is slightly different. Before committing to restoring your missing teeth with dentures, don't hesitate to check with your insurance provider to confirm your coverage. Our knowledgeable denture dentists in Plainview will be happy to help you understand the details of your insurance plan and maximize your benefits.
Other Options for Making Dentures Affordable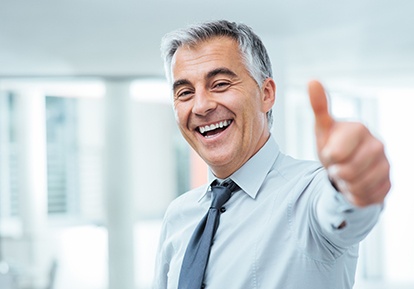 Even if you don't have dental insurance, there are plenty of ways to make dentures work for your budget. For example, at Meadowbrook Dentistry, we offer an in-house discount plan! For as low as $25 a month, you get many of the same benefits as a traditional insurance plan without any of the hassles. No deductibles, copays, waiting periods, et cetera! Instead, you'll get easy access to free preventive care like checkups and cleanings and a 20% discount on major services like dentures in Plainview.
Qualified patients can also save on dental restorations by signing up for CareCredit or Proceed Finance. Both of these trusted partners allow patients to break up the out-of-pocket costs of dental care into small, manageable monthly payments. Many of their plans have low or no interest, which make them a great way to achieving your smile goals without straining your budget.
At Meadowbrook Dentistry, we believe finances should not stand in the way of a complete, healthy smile. Our team will be happy to discuss different payment and financing options for dentures during an initial consultation.
Dentures FAQs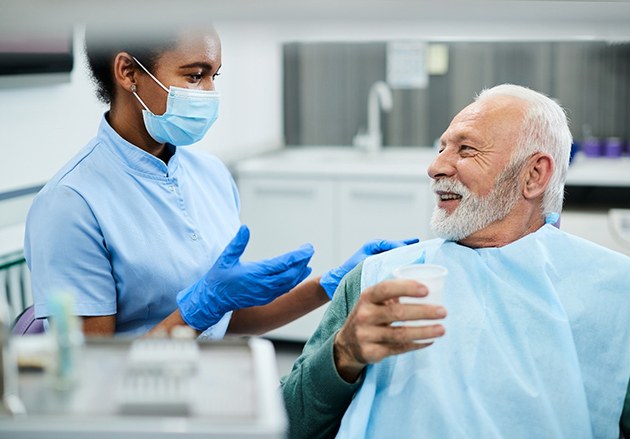 Replacing missing teeth is an important step to regaining your smile and your confidence. But you may have questions before you start treatment. We welcome your inquiries and will address your concerns during your consultation. During that appointment, we can also talk about your needs and goals, the options for replacement, and the cost associated with each choice. Please take a look at the responses below, and don't hesitate to ask us if you need more clarification or have other questions about dentures in Plainview.
What Is the Process of Getting Dentures?
After we've had your consultation, we may need to take care of some preliminary work, such as tooth extraction, implant placement, or gum disease therapy. When that is complete, we will collect impressions of your upper and lower teeth and send this information to our trusted dental lab. Then, you will come in for a fitting to make sure the dentures fit properly. If necessary, the restorations may go back to the lab for further adjustments to ensure the perfect fit.
Does Attaching Dentures to Implants Really Make a Difference?
Dental implants make a huge difference when it comes to dentures. Although modern dentures fit better than ever before, nothing beats the stability and strength implants can give your replacement teeth. Anchored to implants, your dentures enable you to eat basically whatever food you'd like. Plus, you don't have to worry about your teeth slipping out of position, helping you feel even more self-confidence. With this stability, you can have a more nutritious, healthier diet, which can improve your quality of life!
How Long Do Dentures Last?
The lifespan of traditional dentures is usually about five years before a new set is needed. Before then, you may need an adjustment or two to keep the dentures fitting properly. Implant dentures, however, can last for more than 25 years before needing to be replaced. Keep in mind that how well and how long your dentures perform is also greatly dependent on how well you take care of them. If you follow our care instructions on a daily basis, your new teeth can last as long as possible! Plus, when you come to our office for checkups, we can make you're your dentures still look and work at their best.
Are Dentures Covered by Dental Insurance?
Although there are some exceptions, most dental insurance plans include coverage for part of the cost of dentures. In fact, the typical amount is about 50 percent. Taking advantage of your insurance benefits allows you to save on your out-of-pocket expenses, but even if you don't have dental insurance, you can apply for low-interest financing with CareCredit. This option breaks up the total into monthly payments that may be easier to handle than a one-lump sum.