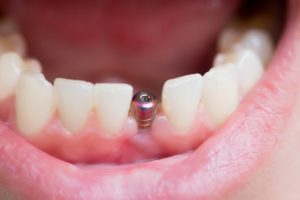 Dental implants are among some of the most popular forms of tooth replacement because of their longevity and effectiveness at replicating natural teeth. However, many people remain skeptical of their use because they don't understand how the materials used to actually keep the implant stable and strong for such a long period of time. If you're considering dental implants in Meadowbrook but want to learn more about the most common materials they utilize, you'll want to keep reading.
Materials Typically Used for Dental Implants
While in the earliest stages of research and development, finding the right material was one of the biggest hurdles for successful implantation outcomes. Prior to finding an effective material for implants, every attempted placement resulted in failure, whether it was in the short- or long-term.
One of the most common materials used for dental implants was, and still is to this day, titanium. Titanium was the first material discovered to be biocompatible with the body's organic structures. This simply means it can be integrated without worry of the body rejecting it, at least in an overwhelming majority of cases (implants carry a 95 to 98 percent success rate after a 10-year period.)
It wasn't until several decades later that researchers considered zirconia to be a useful material to use for dental implants. In contrast to the traditional metal employed by titanium, zirconia encompasses a more crystalline formation, even though it's still a member of the titanium family.
While both are incredibly durable materials, they both have their own unique characteristics anyone who's considering dental implants should know about.
Features of Titanium Implants
It's worth noting that titanium has been the most commonly used material for dental implants for quite some time now because of its proven track record for success. Since zirconia has only been made popular in recent decades, it doesn't have that same track record as titanium.
With that said, not all patients respond positively to certain metals, including titanium. It includes a very small percentage of people, but those with metal allergies consider zirconia as a more viable option compared to titanium.
Features of Zirconia Implants
Along with using a material less that does not have the potential to trigger allergic reactions, zirconia dental implants only consist of one piece. This is in stark contrast to dental implants, which typically consist of two separate metal components; the implant post and the abutment. Zirconia dental implants combine both of these components into one piece, making it unique in the field of implant dentistry. Traditional titanium implants tend to carry a higher risk of bacterial growth due to small pockets created as a result of their two-piece form factor. Since zirconia uses only one whole piece to replace teeth, this risk is reduced.
Keep in mind that no material is inherently better than the other. What's most important is choosing a material that best meets your needs according to the dentist. Schedule an appointment with a dentist in Meadowbrook today to find out which is best for your case!
About the Author
Dr. Miguel A. Casanas Jr. earned his DDS degree from the State University of Stony Brook. Since then, he's continued his education in implant dentistry and sedation, two subjects that make it easy to receive dental implants in his office. To learn more about his practice, you can contact him through his website.