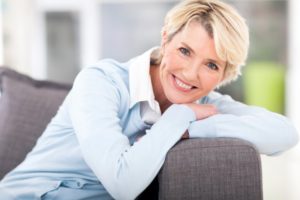 Are you missing any teeth? Thanks to modern dentistry, there are more replacement solutions than ever before. Completing your smile can restore your confidence, help you talk better, and help you chew all of your favorite foods again. But how do you know which replacement is right for you? Dental implants have quickly jumped to the top of the replacement list because of their natural looking and feeling properties. There are 2 kinds of dental implants in Plainview: regular and mini. Keep reading to learn which one is right for you from a trusted dentist.
What Are Traditional Dental Implants?
Traditional dental implants are small titanium posts that are placed in your jawbone to act as artificial tooth roots. They are sturdy and stable supports for your restorations or false teeth. With proper care, the dental implant itself can last a lifetime to restore the feel and function of a missing tooth. One of the few drawbacks of dental implants is that you need a healthy and strong jawbone to accommodate them.
Besides the natural look and feel that dental implants provide, another hidden benefit is that they are the only replacement option that preserves your jawbone. When you lose teeth, you're also losing the stimulation that the tooth roots provided to preserve and strengthen your jawbone. Because dental implants actually fuse to your jaw, they provide it with the stimulation it needs to stay strong.
How Are Mini Dental Implants Different?
As their name may suggest, mini dental implants are smaller versions of traditional ones. Mini dental implants require less materials and time to place, but the biggest difference is that they're about half the diameter of full-sized implants.
That means that typically, 2 mini dental implants will provide you with the same support that a regular one would. The biggest advantage that mini dental implants offer is that they can be used in patients with weaker or smaller jawbones. They can support full or partial dentures, dental crowns, and other restorations that complete your smile.
Which One Is the Best for Me?
The right dental implant for you can only be determined based on the condition of your oral health. The best way to know this is to see your dentist in Plainview. They will be able to give your mouth a careful examination and determine the strength and density of your jawbone. After, they can recommend the best kind of dental implant for you.
Does it sound like you could benefit from traditional or mini dental implants? Talk to your dentist about which option you would benefit from most.
About the Practice
Dr. Miguel A. Casañas Jr. and Dr. Publio Silfa are a team of dentists who take pride in offering both kinds of dental implants as great looking and feeling replacement options. They love seeing their patients' confidence boost after receiving a completed smile. They currently practice at Meadowbrook Dentistry, and they can be reached through their website or by phone at (516) 346-5655 for any questions.