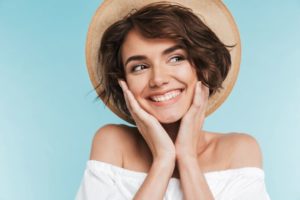 The DIY spirit is alive and well all across America. Every weekend you'll find millions of part-time handypeople changing the oil in their vehicles, painting their homes, and doing their own lawn work. But does it make sense to do your own teeth whitening in Plainview as well? Or is this one job you should leave to a dental professional? Let's look at the pros and cons of both options.
Benefits of DIY Teeth Whitening
You'll find lots of teeth whitening options on the market, from toothpaste brands to kits complete with gel, trays, and instructions. Some of these products are made by recognized manufacturers and contain only FDA approved ingredients. Others come from overseas and are subject to less oversight. Some use peroxide. Others use abrasive ingredients. But how well do they actually work?
Most observers agree that these products do provide a modest whitening effect. However, the inconsistent quality and safety standard from one brand to the next is cause for concern. Also, there's no one to fall back on if you have a question or run into a problem. When it comes to DIY teeth whitening, you're truly on your own.
Professional Teeth Whitening
Professional teeth whitening can take one of two forms. These are:
In-office whitening. A trained dental professional applies prescription-grade whitener to your teeth while you relax. The product soaks into the enamel, where it breaks apart stains at the molecular level. Treatment typically takes less than an hour.
At-home prescription whitening. This option combines the effectiveness of prescription products with the convenience of in-home treatment. Your dentist will provide all the products you need, including gel and tray. You can use them in the privacy of your residence at a time that's right for you. Yet you still get professional-level results.
As you can see, professional whitening offers several advantages. You get the peace of mind and proven effectiveness of prescription-grade products used under a dentist's supervision. You will have no worries about unproven ingredients or risky techniques. Many patients find that these benefits make professional whitening the option of choice.
Getting the most benefit from teeth whitening starts with having healthy teeth and gums. Your dentist may recommend restorative work to address problems such as cavities, misalignment, or missing teeth before proceeding with whitening or other cosmetic options.
It's important to take good care of your teeth after they are whitened. You should brush 2-3 times a day, floss on a regular basis, minimize your consumption of sugars and simple starches, and see your cosmetic dentist in Plainview as recommended for follow-up appointments. Tobacco and vaping devices, excessive alcohol consumption, and illicit drugs can have devastating consequences, not only for your oral health but for your overall well-being.
Smile enhancement is one of the smartest investment you can make. The time and effort you put forth will pay for themselves many times over. Talk to your dentist soon about your teeth whitening options. You'll soon be on your way to a brighter, more beautiful tomorrow.
About the Author
Dr. Miguel A. Casañas Jr earned his DDS degree from the State University of Stony Brook. He spent 10 years as an associate professor of dentistry before joining the staff here at Meadowbrook Dentistry. You can reach his office online or by calling (516) 346-5721.