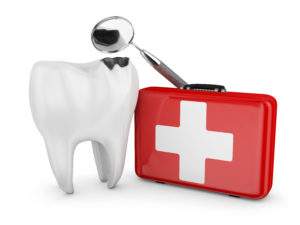 When an emergency happens, our first thought is to call 911. After all, hospitals can handle almost any medical emergency, so why would we think twice? When it comes to dental emergency, there are some circumstances where calling an ambulance or driving to the emergency room isn't the best option. In some cases, a visit to an emergency dentist in Plainview would actually be far more productive.
The next time you're having a dental emergency, take note of the following reasons why you should schedule a same-day appointment and save money on an emergency room visit.
What is NOT a Dental Emergency?
Dental emergencies are not always so clean-cut, so it's important to know when it's time to visit the dentist as soon as possible vs. during normal business hours.
For example, teeth that are chipped or cracked but not painful are not considered a dental emergency. Additionally, teeth that ache but do not significantly hurt can be seen during normal business hours. If you don't have any symptoms of a tooth abscess, such as a high fever or severe swelling, it's not necessarily a dental emergency.
If your crown or filling is knocked out, you should definitely try to reseat the restoration with denture adhesive or over-the-counter dental cement. These are good temporary solutions until you get to your dentist, but you shouldn't put off treatment any longer than a few days.
Common Issues
If you aren't sure if you should visit an emergency room vs. a dentist, take note of the following common dental emergencies dentists see on a regular basis. They include:
Severe tooth pain
Teeth with cracks that extend beneath the gum line
Gum or pulpal abscess (symptoms include fever, facial swelling and severe pain)
Bleeding gums
Pain while biting
Inflammation around wisdom teeth
Emergency Dentists are Better Equipped
Many people don't realize that emergency rooms are not properly equipped to handle dental emergencies most of the time. In fact, the most an emergency room will likely do for your toothache or cracked tooth is provide over-the-counter painkillers, an ice pack and then send you on your way.
In contrast, emergency dentists can examine, diagnose and even treat your issue all in the same visit. Plus, you aren't going to be stuck with as high of a medical bill when you leave compared to if you had gone to the emergency room.
When You Should Visit the Emergency Room
With that being said, there are some instances where going to the emergency room first is more ideal. For example, if you sustained a bad fall and your mouth is bleeding significantly or you believe that your jaw is broken, an ER would be more equipped to help you. Once your condition has stabilized, then it's time to visit an emergency dentist.
Looking for ways to prevent dental emergencies in the first place? Need to get your issue handled today? Schedule an appointment with an emergency dentist to get your toothache in Plainview treated!
About Meadowbrook Dentistry
Our office provides convenient hours both throughout the week and on the weekend, so you don't have to wait or visit an ER just to get your dental issue treated. By keeping our hours flexible, we can work around your busy schedule while still meeting your needs. To learn more about our practice, you can contact our office through our website.