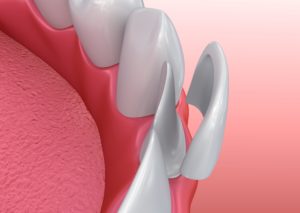 Everywhere you look, you're surrounded by stunning smiles. That's because cosmetic dentistry isn't just for movie stars and celebrities anymore. People from all walks of life are investing in flawless smiles using porcelain veneers. Although they had a bad reputation in the past for looking bulky, modern veneers look just like your real teeth. Here's how dental technology has transformed the procedure to create the perfect smiles you see today.
Better Bonding Process
Believe it or not, veneers aren't a new invention. The first veneers were made in 1928; however, they were more like fake fingernails. This provided a great option if you had a big event coming up, but it could get expensive if you wanted to maintain the results.
In the 1950s, a long-term solution became possible with "etching," which involves removing a small amount of enamel using a weak acid. It roughens the surface of the tooth for better adhesion with bonding materials. In 1982, there was another improvement to the bonding process with hydrofluoric acid. Now, it's not uncommon for veneers to last for a decade or longer with the right aftercare.
Introduction of Porcelain
Previous veneers required a large amount of enamel to be removed, permanently altering the teeth. Despite removing enamel, veneers still looked bulky and unnatural. Porcelain revolutionized the treatment because it allowed veneers to be made thinner. As a result, less enamel is shaved off during the bonding process to preserve more of the tooth structure.
The sleek design of porcelain veneers allows them to fit the teeth like a glove. Porcelain also closely mimics the enamel, so they are virtually undetectable to an untrained eye. The material is stain-resistant, unlike resin veneers, to maintain a bright, beautiful smile for longer.
Precision of Digital Technology
Every mouth differs, so a one-size-fits-all veneer would look awkward and unnatural. Previously, X-rays and messy impressions were used to get the measurements needed to make veneers. Although they were the best methods at the time, they left much room for error.
Digital technology allows veneers to be created to your exact specifications. Your dentist can use digital imaging technology to create a 3D model of your mouth. The images work along with CAD software. Your dentist will design your veneers with the utmost precision. You won't have to worry about any uncomfortable ridges or ledges.
Invest in the Best Technology
Veneers are a big investment. Don't risk your results using outdated methods. Choose a cosmetic dentist that embraces the latest dental technology to create the picture-perfect smile you deserve. Take your first step toward a confident future by scheduling your consultation for veneers.
About Dr. Publio Silfa
Dr. Silfa earned his dental degree at the Columbia College of Dental Medicine before pursuing higher education in advanced specialties, like cosmetic dentistry. He understands the mouth and body connection, aligning his treatments with overall wellness. If you're ready for an attractive smile, contact our office today to request your cosmetic consultation.