Dental Implant FAQs – Plainview, NY
Answers to the Most Common Dental Implant Questions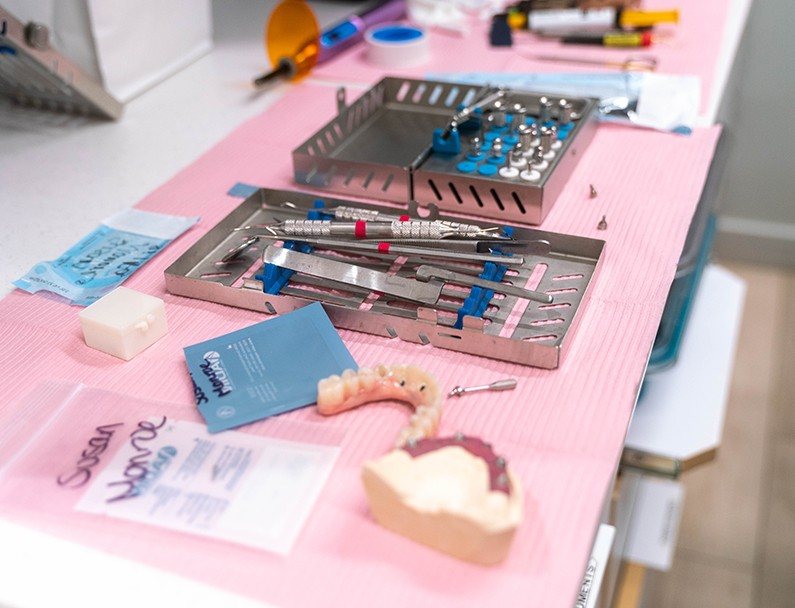 Given the popularity of dental implants, there's a good chance you've heard about the many benefits they provide. But if you still have questions about the procedure, you're not alone. Our team of experienced dentists at Meadowbrook Dentistry performs the entire procedure from start to finish and has helped countless patients understand the process. On this page, you'll get answers to the questions we hear most often, but feel free to contact us if you have questions that aren't included here!
Why Choose Meadowbrook Dentistry for Dental Implants?
Expert Dentists Trained in Implant Dentistry
Placement and Restorations Done In-House
Modern Technology Guiding Your Tooth Replacement
Is Getting Dental Implants Painful?
Getting dental implants seems like it would be painful, but the truth is that it's much easier than most people anticipate. We make your comfort a top priority from beginning to end, and always start by ensuring that you're fully numb. We also have sedation options available so that even anxious patients feel comfortable and at ease.
Does the Surgery Require Time Off?
Much of your initial discomfort will be gone in the first several days and the bulk of the tissue healing will take place in the first week (this is not to be confused with the osseointegration process, which usually takes 3-6 months). We typically recommend that you take a few days off work or school to rest and recover after your surgery.
Is the Implant Procedure Done In One Office?
At Meadowbrook Dentistry, we're proud that our team has the advanced training and experience to perform the entire procedure right here in our office. You won't have to find a new dentist and will have the comfort and convenience of continued care with a team you know and trust.
What Are the Chances of Implant Failure?
One of the advantages of dental implants in Plainview is that they have such a high success rate (and low failure rate). In non-smokers, the long-term success rate is around 98%!
How Can Technology Affect Implant Success?
Advanced technology and equipment make a big difference in the quality of the initial implant placement, which subsequently affects its long-term success. For example, we use a CT/Cone Beam scanner to take a highly-detailed, 3-dimensional image of your teeth and jaws beforehand. This tells us exactly where to place the implant for significantly greater accuracy and precision. Ultimately, it allows us to perform a better-quality procedure from the very beginning.
How Long Do Implants Last?
Dental implants are a long-term investment because they can last several decades or a lifetime with proper care (i.e. good oral hygiene, regular checkups, etc.) Having said that, there are some factors that can increase the chance of failure, including:
Clenching and grinding can put extreme force on an implant and cause it to become mobile or loose over time. However, wearing a protective nightguard can prevent this.
Using tobacco
Advanced, untreated gum disease puts both natural teeth and implants at risk. It destroys the gums and underlying bone that support an implant and keep it in place.
Fortunately, failure is relatively quite rare. By caring for your implant and overall oral health, you'll have a great chance of enjoying your implant for life.
As a dentist in Plainview with years of experience placing implants, our patients often say that they're so thrilled with their replacement teeth that their only regret is not having it done sooner!