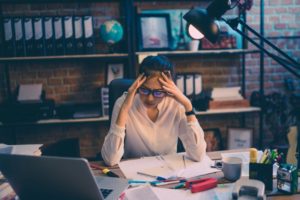 Extreme stress impacts millions of American adults from all different backgrounds. Every day, when you lay your head on your pillow, your worry and anxiety don't disappear so you can start fresh the next day. Instead, they manifest into bad habits that you may not even notice you're doing. These include stress-eating, drinking, sleeping conditions, and teeth grinding. Your stress could be caused by several complex factors that may take time to work out through therapy, self-care, or rearranging the balance of your life. In the meantime, your dentist in Plainview can help reduce the impact that your bad habits are having on your body. Read on to learn why you're grinding your teeth and how that can cause trouble down the road.
Teeth Grinding: Your Body's Answer to Stress
There are several factors that could be the root of your stress. The American Institute of Stress conducted research to determine what some of the most common sources were for adults in America, and they found the following: concern for the future of the country, finances, work, politics, and violence and crime. Some of these issues, you may not be able to solve, just cope with. That's why it's important to learn how your body is responding to these issues so you can reduce the impact they have on your health.
Most people suppress their anxiety, worry, and stress throughout the day so they can continue to be productive at work and make a living. You've got to do that to be able to survive, after all. So, when you lay your head down on your pillow every night, your body may respond to that while you're asleep by grinding your teeth. This can also occur while you're awake and you may not even notice.
You're Not Alone if You're Stressed and Grinding Your Teeth
According to the American Institute of Stress, over 10 percent of American adults experience extreme stress throughout their lives. So, if you're grinding your teeth, there's a good chance that millions of other stressed-out people are too, and you're not alone. It's also important to know your family history, because people who have relatives that have bruxism are 50 percent more likely to. That's why it's important to let your dentist know if you've noticed your jaw is sore when you wake up, your teeth looking worn down, or are experiencing pain when you bite.
Let Your Dentist Protect Your Teeth
Chances are, your dentist offers custom-fitted nightguards to protect your teeth from the harmful effects of grinding and clenching. This mouthpiece is a firm and comfortable barrier that can also ease your jaw discomfort. When left untreated, the condition can cause your teeth to slowly break down and eventually become fractured or even fall out. If this is a serious reoccurring issue for you, don't hesitate to schedule an appointment today.
About the Practice
At Meadowbrook Dentistry, we believe that everyone should have access to the dental care and treatments that they need. That's why we offer extended hours and are open on Saturday. We're also an in-network provider for the majority of most PPO insurance plans and also offer an in-house discount plan for patients with dental benefits. We look forward to helping protect your health and wellbeing and giving you one less thing to worry about. For questions, or to schedule an appointment to get fitted for a custom nightguard, visit our website or call 516-346-5655.