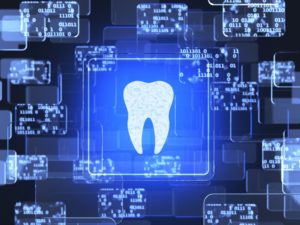 From allowing us to stay in touch with loved ones over long distances to storing more information than we could ever keep track of on our own, modern technology can make our lives better in so many ways – and that includes the kind of dental care we receive! Your dentist in Plainview has many different advanced tools they can use to help give you a better smile; here are just some of the state-of-the-art treatments that are used today.
Digital Smile Design
Perhaps you'd like to improve the appearance of your smile but are unsure if you'll like the results. For this reason, many dentists employ Digital Smile Design software that can help predict the outcome of treatments. Videos, X-rays, and high-quality photographs are taken and are used by the program to create an image showing the simulated results of the desired procedure; this will allow you and your dentist to work together to create a treatment plan.
For example, if you'd like to correct the coloration or shape of your tooth, you might be considering porcelain veneers. With Digital Smile Design, the dentist will be able to see how they'd look on your teeth and adjust the design as necessary. This will result in veneers that create a natural look in your mouth alongside your other teeth.
Laser Dentistry
For certain dental surgeries, laser dentistry can be a safe, comfortable alternative for performing procedures that would normally require a drill. The laser is precise and accurate enough that it can cauterize blood vessels and nerves during procedures that affect the gums, helping to reduce pain and bleeding. Laser treatments are also more time-efficient; your dentist may be able to schedule more than one procedure for a single day as a result.
Digital X-Rays
Previously, dental X-rays were taken by a device known as a radiogram, which had the unfortunate side effect of exposing patients to potentially unsafe levels of radiation. Nowadays, dentists favor digital X-rays that, in addition to being safer, can create high-resolution pictures that don't need to be developed with chemicals in a dark room; they can simply be saved and stored on a computer for easy viewing.
Other Advancements
Many individual treatments have benefitted from technological advancements. Porcelain veneers can be made with thinner, more durable material that preserves more of the original tooth, reducing the risk of complications. Recently, studies have found a special numbing gel that can do the same job as anesthetic without the use of a needle.
With these and other advantages, dentists have been able to greatly improve the quality of the dental care they provide; for older patients who have been avoiding the dentist, you might be surprised to learn things are very different now, so why not make an appointment soon?
About the Author
At Meadowbrook Dentistry, a team of 3 dentists strive to give dentists individualized, stress-free care. They employ advanced technologies such as Digital Smile Design, digital X-rays, and soft tissue lasers to provide high quality restorative, preventive and cosmetic dentistry. To schedule an appointment, visit their website or call (516) 346-5655.