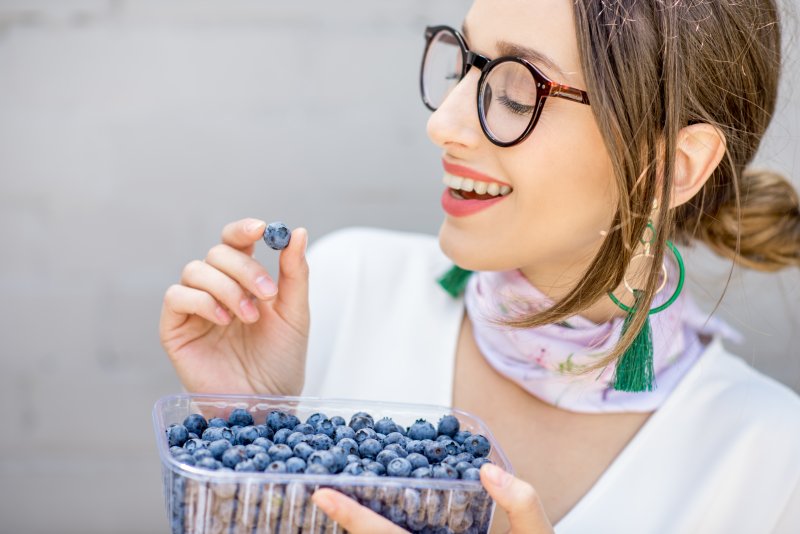 Did you recently get teeth whitening in Plainview? If so, you can be sure to enjoy a brighter smile for many months to come! However, you'll also want to take extra care of your smile to make the most of your results. While brushing and flossing are essential for this, so are your choice of meals. Read on to learn five foods you should avoid immediately after teeth whitening.
#1: Blueberries
Although blueberries are a tasty and nutritional snack, they can also easily stain your teeth. This is due to the plant pigments they carry as well as their acidic content. Since your newly whitened teeth are a fresh and blank canvas, this can be detrimental to your results early on. Instead, try waiting a week or so after your treatment before enjoying blueberries or other dyed foods.
#2: Tomato Sauce
If what you're about to eat can stain a white shirt, then it'll likely stain your brightened smile. While tomato sauce is healthy for you, it can ruin your cosmetic results. Not only will it offer a heavy shade of red, but it's also acidic and can wear down the bleaching effect of your treatment.
#3: Coffee
Enjoying a fresh cup of joe in the morning can help energize you for the day. However, you may want to avoid this dark-colored and acidic beverage right after getting teeth whitening. With every sip of it, you'll be effectively staining your smile brown. Instead, try drinking herbal tea to retain your improved pearly whites!
#4: Sodas
While many sodas are dark in color, they're also high in acidity and sugar content. This can make it a nightmare for newly whitened teeth as well as your enamel. If you must drink these beverages, then try using a straw to help avoid contact with your smile.
#5: Red Wine
You might enjoy an occasional glass of red wine, especially on special occasions. But if you've undergone teeth whitening recently, then enjoying this beverage may not be the best for your results. Alcoholic drinks are also highly acidic, which can damage your enamel and leave a noticeable residue.
So, when deciding what to drink or eat after teeth whitening, consider lighter-colored foods and dairy products—such as scrambled eggs, bread, bananas, yogurt, and milk. And if you have any questions along the way, be sure to speak with your dentist for help.
About the Author
Dr. Publio Silfa received his dental doctorate from the Columbia College of Dental Medicine. He also regularly pursues continuing education to improve his expertise, so his patients receive the high-quality care they deserve. He offers a wide range of comprehensive and modern treatments, including teeth whitening, to help you achieve your best smile! If you'd like to know how to make the most of your teeth whitening results, visit his website or call 516-346-5655.