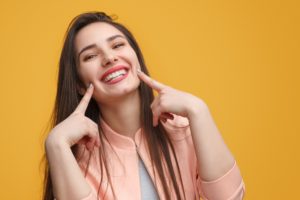 The appearance of your teeth is important for how you see yourself and how others base their first impressions. If you have cosmetic flaws, your smile may say the wrong thing about you. Although you know your cosmetic dentist in Plainview can help, you are concerned about the cost of the treatments. Did you know your dental insurance may cover a portion of the expenses? Now, you can get a healthy, beautiful smile while staying within your budget.

Use Your Insurance for an Attractive Smile
Now, several aspects of cosmetic and restorative dentistry often overlap. As a result, after paying your yearly deductible, your insurance may cover as much as 80% of the cost of the procedures. If your dentist in Plainview determines that the treatments will also improve the health of your teeth, they will be covered under your plan. There are several cosmetic procedures that may be included, such as:
Metal-Free Restorations
Damaged or decayed teeth are treated using fillings or dental crowns. In the past, they were commonly made from metals. Although they are affordable and effective, they are highly visible, which may cause you to feel insecure about your smile. Now, you can enjoy natural-looking results using tooth-colored fillings or all-ceramic crowns. They are crafted to match the color of your enamel to blend in with your teeth.
Direct Tooth Bonding
Cracked or chipped teeth not only hurt the appearance of your smile, but they can also negatively impact your oral health. Direct bonding can be used to fix them. A composite resin material is applied and sculpted to reshape the tooth. It is a simple and easy fix that provides both restorative and cosmetic benefits.
Orthodontics
Properly aligned teeth are important for more than just your confidence. They are also vital to ensuring a proper bite and reducing your risk of tooth decay and gum disease. In some cases, orthodontic treatments are deemed necessary to improve oral functions; therefore, your insurance may pay for a portion of the cost of braces, including Invisalign.
Porcelain Veneers
Although it is rare, there are times when veneers are included in your insurance policy. By placing the thin shells on the front surfaces of your teeth, they can cover chips and cracks. Your dentist can determine if they also offer restorative benefits to help lower the cost of the treatment.
Invest in Your Confidence Today!
You do not need to live with less than perfect teeth. You can get the smile of your dreams while staying within your budget. Your dentist will maximize the value of your policy to reduce the amount you must pay out-of-pocket.
About Meadowbrook Dentistry
At Meadowbrook Dentistry, we strive to give you a gorgeous, healthy smile. We use the latest advancements in dentistry to promote the health and appearance of your teeth. We create the customized treatment plan you need to invest in your confidence. Contact our office today to schedule your consultation for a smile transformation.